Tucker or Tuck for short is a Black saddle tank engine who works on the North Western Railway. His main job is working on the Ffarquhar Branch and The Little Western and also does odd jobs around the railway such as station pilot at tidmouth and commuter trains heading out of knapford. He's also loaned out to other railways for gala weekends.
Biography
Edit
Tuck was first built at the Hunslet Engine Company in 1946 and was part of the batch that were sent to work on the LNER and being classified as LNER J94s (This was cheaper than ordering a new batch of J50 tanks). He had a fairly uneventful working life under LNER ownership with a few mishaps every now and then. 1 time at a shed bash at Kings Cross sheds (also known as Top shed) he had the honor of meeting Flying Scotsman and 2 of his siblings and was the only J94 at the shed bash. In 1954 when he was standing outside the shed a boy climed into his cab and pulled his regulator backwards and jumped out causing him to crash at the back of the shed. His coal bunker was beyond repair and had to be replaced. in 1964 he was bought by the steelworks 16 worked at to shunt ladle trucks into place and acting as the manager's personal mode of transportation. After 16 rolled cab over wheels down a bank he took over his duties until 1980 when the steelworks faced closure. In 1980 he was bought by the Bluebell railway in Sussex. After a few working spells there he was bought by Sir Charles Topham Hatt II in 1982. He originally worked as the station pilot at Tidmouth, shunting trains for the bigger engines on the main line to take out. 1 day when Thomas was at the works for repairs Tuck was sent to work on the Ffarquarr Branch pulling Annie and Clarabel and he did such a good job that he became a semi-permanent member on the branch. In 1993 he met Wilbert when he visited and became friends and in 2010 they reunited at a steam gala at the Dean Forest Railway.
Personality
Edit
Tuck is calm but can be hyperactive sometimes and easily excited. He likes teasing Lo and the other jintys about how there's more of him than there are of them. He's also very smart but does have a tendency to act childish.
Technical Details
Edit
Tuck is based on the Hunslet Austerity 0-6-0 saddle tank engine. Wilbert, 16/Sheffield, Star, Dom, Naminè, Lisa, Gabby, Erin, Grant, Jeremy, Lindsey, Marion, Gable, Nick, Mia, Lucinda, Blake, Jordon, Blossom and Piper are also based on this class of engine.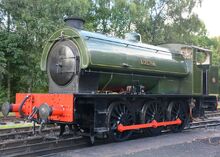 Tuck is painted black with red lining and wheels with his number in yellow. Before then he wore a very dark shade of blue with black lining and wheels.
Hanging out with Jenny, Sheldon and Brad
Thrill and adventure
Robot heroes
Playing with trucks and pulling coaches
Wandering around aimlessly
Traveling
Dislikes
Edit
Brit and Tiff
When the trucks are being troublesome
Being questioned why he works on the little western
He is based on and named after Tuck Carbunkle from My life as a teenage robot
His number is 64 because it was inspired by the Nintendo 64
His livery is based on steam locomotives from Germany
Community content is available under
CC-BY-SA
unless otherwise noted.